September 7th, 2011
Infinite Scroll Being Testing Internationally on Search Results
When Google changed Image Search to have an infinite scroll feature, it was one of those things that makes so much sense you couldn't believe they hadn't done it sooner. Well now they're testing the same feature within the regular search results, and we're starting to think the same thing.
Currently the feature is just an experiment being conducted by Google around the world. However, they've actually confirmed that they're testing it out, something that Google doesn't usually do.
Instead of the very familiar "Goooooogle" at the bottom of the search results…

The test simply shows a button reading show more results…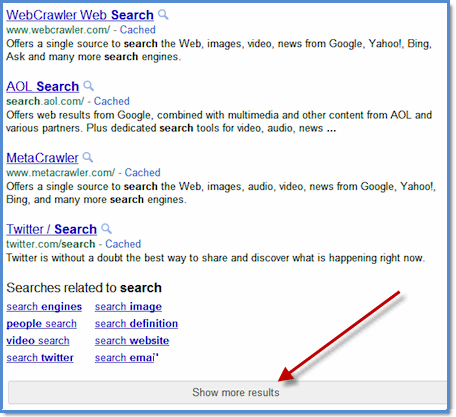 The catch is that you actually have to click to the second page in order to actually use the infinite scroll. With Google's new expanded sitelinks taking up so much of the main page, all of this scrolling will soon start to feel like a necessity.
To truly benefit from this infinite scrolling option Google needs to give it the same elegant simplicity of the existing Image search infinite scrolling. The crude Show more results button at the bottom completely interrupts the streamline feel and it's the first thing that needs to go. Why not just have a continuous stream of results like Image Search?
This is great news for sites that continue to sit on page 2, 3 and even 4. Image search has shown that without a button to stand in their way, visitors will scroll well beyond what used to be their limit. If they put this feature in place starting on page one, then those first page listings will start losing clicks to sites lower down.