April 12th, 2011
The "feared" Panda/Farmer Update – Quick Note
In a world that has not prepared for a commercial entity to become as powerful as a nation state, Google appears to have done just that. Our anti trust laws are ill equipped to handle this and Google appears to know it. Instead of laying low and flying under the radar they are flexing their muscles and letting the world see their power.
The Panda update is a great example of this. With a recalculation of their algorithm in February they have shifted an estimated BILLION dollars worth of revenue around the world. Companies such as Mahalo.com have already begun to cut their work force while others are out there trying to meet the sudden demand this shift has created for them.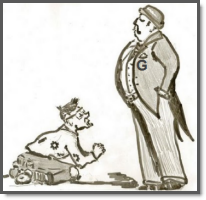 Regardless of all the noise you're hearing otherwise – writing a letter, filling out a form, or complaining are not going to get you back in the top rankings with Google.
There appears to be only one way to recover from this update and that is by making changes to the content of your site. If you are one of the companies struggling to recover from the Panda update please read this SE Byte for steps on the best way to start your recovery.
Smacked by Google's Content Farmer Update? Here's what to do