September 5th, 2010
Google Voice Adds Voice Over IP…Skype in trouble!
Google has just enhanced their Google Voice service with the ability to include voice over IP. As it stands, all calls within the US are free. You can go to your gmail account to check out this service, or if you'd like you can set up your account here.
If you're prompted to do a download don't stress because it only takes a minute, although you do have to reset your browser. If you've already set up Google voice then calling through Gmail will use the same number. If you don't have Google voice set up then it appears to use a random phone number based on the data center you're closest to. This could potentially be a problem if you decide to call someone who screens their calls, like most of us do. If you want a phone number assigned to you take the plunge and get a Google voice account. We here at Planet Ocean love Google Voice and make use of it all the time.
The fact that Google is joining the game when it comes to voice over IP is great news for you if you do a lot of international calling. Google's international telephone rates are comparable to Skype's. In some cases Skype is cheaper and other cases Google is cheaper.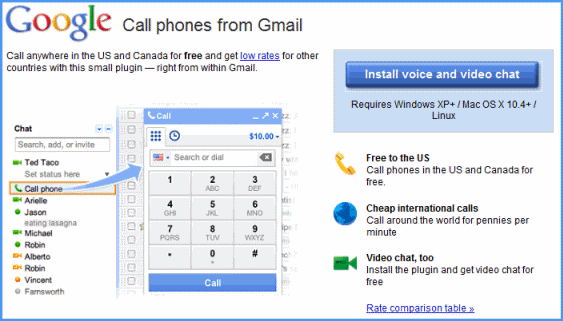 In terms of user friendly interface and available options, Skype still has the lead. One thing that Skype automatically does is provide you with links within search results to call the phone numbers listed. Right now, you can get Google to do that with various plug ins depending on the browser you use. However, knowing Google, this feature along with the rest of Skype's most popular are just a few updates away. How does this affect your marketing? Well, with every service that Google gets involved with they have more advertising space. So watch AdSense and AdWords for voice over IP integration.