August 15th, 2011
Free Website, Hosting and Domains for Business Owners in Texas
Recently, I read about Google's efforts to establish a few test City Pages. These Google centric city portals all began with Google going to the city and getting integrated in the daily workings of each community. This hands on approach promotes Google assets while providing a service to the community.
Well, Google has decided to take this a step further and expanded its local, grass roots work to all of Texas with a new service called Texas Get Your Business Online.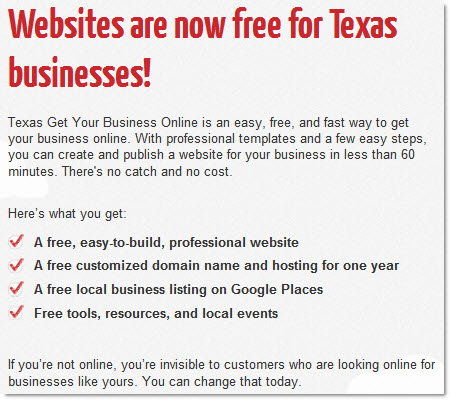 It provides a free professional Web site for any Texas business along with a domain name. Sound too good to be true? Here's the fine print…

The Web site has an extremely detailed frequently asked questions section that provides even the most novice business owner an idea of what it takes to get online. As with other local Google programs whether it will be coming to an area near you is still unclear. If your business operates out of Texas get ready for a surge in the local competition as many business owners are sure to take advantage of this offer.
I so wish that Google would do the same for the entire Philippines. Call it monopoly, but what the heck, I love Google. All Hail Google!