March 4th, 2011
Content Is Not KING Anymore?!
Shocking isn't it?
Content is King…you've heard it stated over and over again. Well, this month Google has decided to show us once again exactly what that means.
The first of two algorithm updates has been quietly dubbed the "Scraper" algorithm and is intended to block low quality scraper sites from showing up in the Google index. Immediately after it released some webmasters complained that their traffic had dropped as much as 40-60%. These same webmasters also claim to have in depth content, and point out that the real content farms and scraper sites have either maintained or risen in ranks.
Google's Matt Cutts stated that the algorithm is very targeted and only 2% of queries were changed in some way and only 0.5% of the results would change enough that anyone would notice. He also stated that the algorithm is designed to elevate those sites which created the original content over those sites who republish it.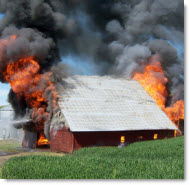 Later in the month Google released its second algorithm update dubbed the "Farmer" update that is believed to specifically target content farms. Google has stated that this update impacts 11.8% of queries which is pretty significant compared to most updates in the algorithm.
Google announced that this update penalizes content farms, but they won't confirm that content farms are the main target. However, Google did mention their Chrome extension allows users to create a personal block list right from their search results. When a site gets blocked by a user, data is sent to Google and is then used to evaluate which sites might be scraper sites or content farms.
When Google released the "Farmer" update, they compared the new results with the most commonly blocked sites and found that 84% of those sites were affected by the new algorithm. Not only is Google using this to confirm the effectiveness of their update, but they also show how good users are at identifying sites that use spammy SEO tactics to rank well.

This may leave you wondering how exactly Google is defining a content farm. In the past this has been a very loosely used term with no clear definition. However, thanks to this update we can see by example who Google feels has made the cut and who has taken a big ranking hit and been labeled a…
Farmer:
Mahalo.com
EzineArticles (all article directories for that matter)
HubPages.com
Business.com
faqs.org
Wisegeek.com
The Other Guys:
Facebook
EBAY
Wikis (wikipedia, Google Knol)
YouTube
Instructrables & Ehow (both are VERY surprising but were not touched)
Yahoo Answers (very surprising here)
Etsy.com (comparison shopping)
Amazon
If your site was hit by either one of these updates you should consider making a big push to create original high quality content and replace any auto generated content.