July 19th, 2011
Why So Late of An Entrance Google Chromebook?
After months and months of waiting, the ChromeOS laptop is finally a reality. So far there are positive reviews that make the Chromebook a worthy opponent in the laptop world.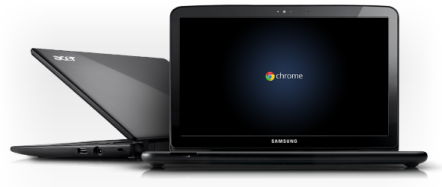 Right now you can buy a Chromebook from Amazon or BestBuy Online with a few locations available for walk-in purchases. However, there are only a couple core models available so far: an ACER model and a Samsung model.
Both have essentially the same specs as your typical netbook would have. The Intel Atom processor, the 16GB SSD hard drive are both standard in a netbook, but Chromebook has a larger keyboard and screen. This means the laptops are slightly bigger than a netbook, but since they only weigh just over 3lbs they have all the portability of a netbook.
Outside of the ChromeOS the Chromebooks have a couple welcome additions to the netbook category, mainly HD capabilities. ACER's model sports an HDMI out allowing you to stream from the Chromebook to another HDMI device like your TV with ease.
Another addition is the ability to get your Chromebook 3G ready – allowing you to use the Internet anywhere with a data-plan. Like many tablets available today, you can buy a wifi-only version or a 3G version of the Chromebooks with relevant price differences included.
Chromebook was a device that sounded like a dream a couple years ago when the netbook was king, but it took so long for Google to get it off the ground, now that era is lost to the tablets. It's not as fun and portable as a tablet, and not as capable as an actual laptop. The pricing of the Chromebook is cheaper than any tablet, with similar casual user capabilities, while it's more expensive than a lot of netbooks and even some cheaper laptops that have more actual capabilities.
In the end – if the Chromebook fits your needs and your particular situation you should get one, as long as you're able to work with cloud computing. The Chromebook is getting good reviews all over so far, so it's not a bad product. Although, looking at all the other alternatives out there, it's going to have some very stiff competition.
For more info check out google.com/chromebook.