January 21st, 2012
Looking back – Sad View of Search 2011
So 2011 is over and out, and we're looking forward to another year in search. At the beginning of 2011 Google was a very different place. Search looked different, there was no site preview feature, we were still using Buzz because there was no Google+, and Google had just attempted to buy Groupon for a couple billion dollars before deciding to just create their own version.
For a great overview of search in 2011, Google's Zeitgeist has compiled several top 10 lists from 2011, the most prominent of which is the fastest growing global search trends of 2011, meant to capture the spirit of 2011 in search form.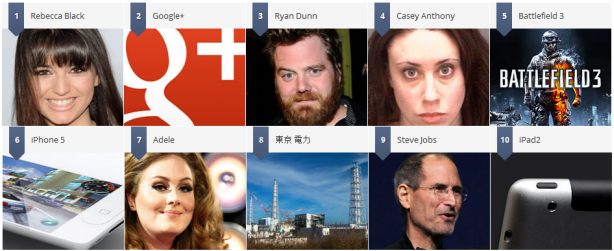 The list is as follows:
10. iPad2
9. Steve Jobs
8. The Japanese nuclear powerplant crisis as a result of the tsunami.
7. Adele
6. iPhone 5
5. Battlefield 3
4. Casey Anthony
3. Ryan Dunn
2. Google+
1. Rebecca Black
We're not sure if this list is supposed to be interesting, exciting, or depressing. At a glance it's a semi-nostalgic overview that reminds us of all the ups, downs, and whatever random horrible fad (think the Macarena and Rebecca Black) was of the last year. After some consideration however, the list shows us that minor celebrities, electronics, video games, and social networking are very high priorities in the search universe, and of course our society.
For example, the death of a visionary like Steve Jobs is only ranked at #9 on the list, but a minor celebrity like Ryan Dunn, a guy from the Jackass show and movies (who put a toy car in his anus so he could get an x-ray of it) is #3, and where is the 'death of Osama Bin Laden', or Kim Jung Il?
While we can appreciate that people searched so much for information about the tsunami and the nuclear power plant that was heavily damaged in the disaster, but what about the revolution in Egypt? Or perhaps the people from nearby countries that were inspired by the Egyptian revolution to start their own like Libya? These are global trends aren't they?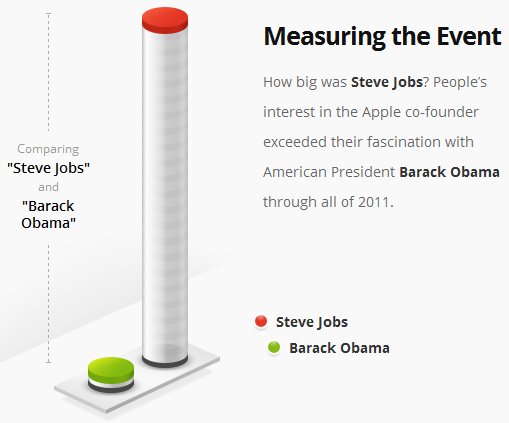 We only have one answer to all those questions: Rebecca Black. Think about it (please don't). Of course none of this is Google's fault, and the graphs and information are all pretty cool, so check them out!