July 19th, 2011
Facebook's 'Like' Button Nemesis – Google's '+1′ Button
As announced in the May updates, Google has released the +1 button to the public and now it's available for use on your Web site. The button allows signed in users to recommend your site to their friends, with the click of a button – much like Facebook's 'Like' button. Before users had to click the button within the search results but with this latest update you can add it to your site and they can +1 your site while checking out a specific page.
Additionally, Google is now showing the +1 button in the organic search results for Web sites that have added the button to their sites – even for users that are not signed into their Google account. Although, with so few having added the button so far – it's not something you're seeing a lot of yet.
However, if you are signed in to your Google account the +1 button is everywhere for both sites that have added the button and ones that haven't. It even changes color and does an eye catching shimmer if you mouse over it. Check out this screenshot below to see just how much Google is saturating the organic results with this button.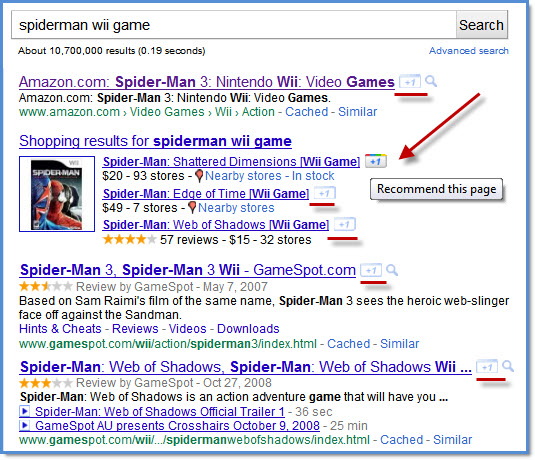 Some are predicting a failure of the +1 button, but regardless of the intelligence of their arguments, it leaves us wondering. Facebook has already proven that this one click button works and works well. With Google saturating their search results with it, why wouldn't it become highly integrated? We highly recommend that you jump on this bus and get that button added to your site sooner rather than later. Google has everything ready for you to add the +1 to your site today.
The +1 button is now officially active on Google in the UK, Germany, Japan and France (what – no China?) and will be rolling out around the world this week. Here's a quote from a post dated June 27th on the Adsense Blog:
"Today, +1's will start appearing on Google search pages globally,"…We'll be starting off with sites like google.co.uk, google.de, google.jp and google.fr, then expanding quickly to most other Google search sites soon after."