June 18th, 2011
Move Over Google Maps – Facebook Integration Deepens With Bing
Bing announced May 16th new features to further integrate Facebook's social data into Bing Search on a much deeper level. Bing is now changing search results and integrating Facebook Friends' Likes into the main organic search results – not just in a small module apart from organic results like was previously released back in October 2010.
The new features don't end there, here's a run down of each new change…
Friends Who Live Here
If you search for a city or town, Bing will make mention of friends that live in the area. They will not list all the friends however, and there is no real clear method as to which ones they will list, it appears to be somewhat random. In this example, which we've anonymized, the account used had many more friends than just two that live near and in Joplin, Missouri but Bing only listed two of them for some reason. We've seen other examples where it will list them in a different way, so perhaps this is something Bing is still testing.

Friend Search
Searches at Bing for your friend's name will bring up a mini-bio result as shown below for Planet Ocean's Casey Markee. If you are not logged into Bing while doing the search for a friend, the Facebook mini-bio result will not show.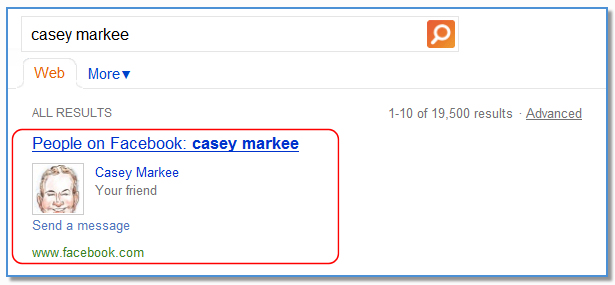 Likes in Organic Search
Facebook Likes from your Friends are now deeply integrated within organic search results. If your friends have liked a company that is on Facebook, Bing will show your friends that have liked that company in search results – regardless of the size of the company, we've seen this working well for even small Mom & Pop sites.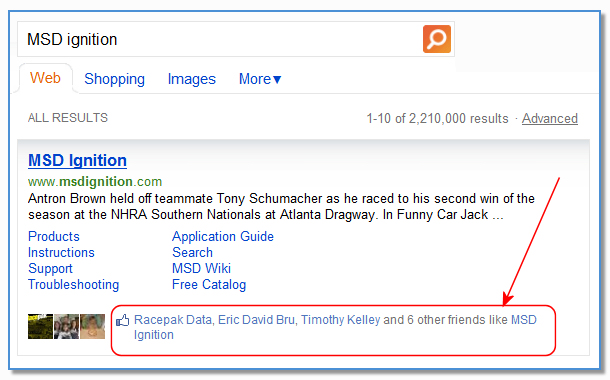 Bing is also using Likes from people you don't know in search results, for example this search that features Epicurious.com shows specific pages that have been recently liked by Facebook users. Bing is updating the most recently liked pages, if you do a search for Epicurious right now, it's likely new pages will be listed. This adds even more reason to use the Facebook Like and Share buttons on your pages.